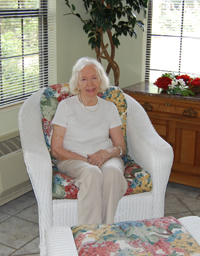 Ms. Lorraine Teese … determined to stay independent
Ms. Lorraine Teese truly expresses the spirit of the Shadow Oaks motto, "Keeping Independence in Mind." In 2002, six days before Christmas she suffered a stroke, which left her paralyzed on her right side and mostly confined to a wheelchair. However, upon meeting her, one is instantly drawn away from her disability and quickly becomes more interested in learning about her most interesting life. She exudes a sense of confidence, independence, and grace, which makes it no surprise discovering that prior to the stroke she was a downhill skier, tennis player, designer, and sewer of her own clothes.
Lorraine graduated from Columbia University in the city of New York, receiving an advanced degree in Psychology. Upon graduation, she worked at the Psychological Corporation in midtown Manhattan. Following that job, she spent eighteen years in the school system as a school psychologist. In that capacity, she showed love and compassion for children, by making sure their rights were respected. Additionally, Lorraine was inducted into the Who's Who of American Women.
She and her husband Phil were married for 51 years until his death eight years ago. Together they happily raised three children, two of whom live nearby in South Carolina.
In addition to raising a family they shared many years traveling together. He was an avid photographer, and she takes pleasure looking through the many pictures her husband took as they visited throughout Austria, France, Germany, Italy, London and Scotland, Russia, Hawaii, the Caribbean, the Scandinavian countries, and the Pacific Northwest.
While experiencing the support and comfort she receives at Shadow Oaks, Ms. Teese also enjoys playing bridge two days a week. She especially appreciates the independence and freedom to go out to dinner and shop with friends. It is our sincerest hope that she enjoys us as much as we enjoy her!